Tool Tracking Tips
---
Keep it simple! Tool tracking doesn't have to be hard. We have helped hundreds of contractors get organized and start tracking tools. See below for some free resources to help you improve your tool management processes. If you would like to know more about our tool tracking software use the top menus.
Most importantly, keep it simple!
Articles about Tool Tracking
---
These articles discuss in depth the key areas of tool inventory tracking. This includes tool trackers of all types as well as small tool tracking and equipment tracking best practices.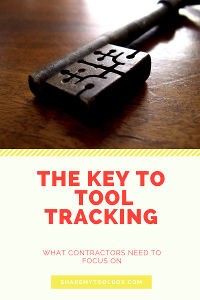 ---
The Key to Tool Tracking
---
Construction tool tracking doesn't have to be hard. New technology helps contractors to track tools in easy and simple ways. However, there are a couple key factors that construction companies should consider when putting new tool inventory tracking processes in place.
---
---
Tool Tracking for Accountants
---
Do accounting requirements or operational requirements drive your tool tracking process? When it comes to tool tracking accounting policies drive the tracking process at too many companies. This is due to a bunch of reasons but is it the way it should be? Is the accounting approach the best way to approach tool tracking?
---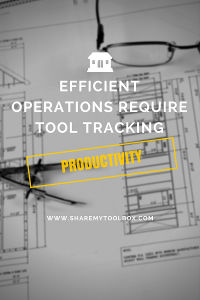 ---
Efficient Operations
---
Complex construction projects can require lots of tools. Specialized tools needed to meet increasingly specialized requirements are increasing tool costs at all types of contractors. Pricey tools are often being used across multiple projects. Sharing these valuable tools is critical to achieving a return on the investment in a competitive construction environment. Unfortunately, this sharing also increases the risk of the tools being lost, damaged or procured for personal use.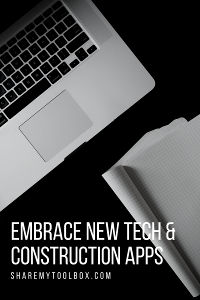 ---
Embrace New Construction Apps
---
With each change in technology some companies thrive while others fail. IBM, Zerox, and others are examples of companies that owned an industry only to miss a wave of technology. Smaller nimble companies took advantage of the change and overtook the industry these giants once controlled. How can your company take advantage of technology to prosper from the next changes?
---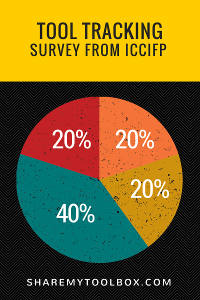 ---
Tool Tracking Survey
---
Construction Financial Manager's Association (CFMA) and the Institute of Certified Construction Industry Financial Professionals (ICCIFP) partnered with ShareMyToolbox to build a survey on tool tracking processes. The survey captured tool accounting practices & tool tracking methods of the respondents from organization members representing all sizes and types of contractors.
---
---
More Articles Coming Soon
---
Have an idea for a new article? Contact us and let us know. We are always looking to expand our library of helpful information.
Interested in RFID, Bluetooth tool trackers or GPS tracking devices? Let us know so we can write more articles for you.
Construction Tool Tracking Profiles
---
Have you ever wondered how other contractors are solving the small tool inventory issue? Here are some the ways electrical, mechanical and other contractors are tracking their tools.
---
Ending Slow Tool Theft
---
Pentoir construction is a painting, drywall and interior contractor. They found that employees often kept tools so long that they forgot that the tools belonged to the company. Slowly the tools were procured for personal use. This profile shows how Pentoir stopped slow tool theft.
---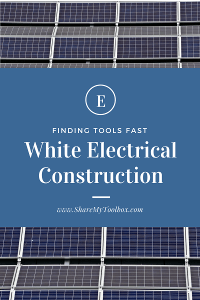 ---
Finding Tools Fast
---
White Electrical has been in business since 1910 and works over a very large geography. With lots of trucks, lots of jobs and lots of movement it was often hard to find tools fast. Searching for who had a needed tool could take an hour of phone calls. Learn how White Electrical solved their tool tracking problem.
---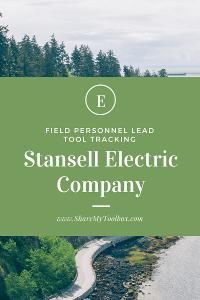 ---
Field People Lead Tool Tracking
---
At Stansell Electric most tools stay in the field. Tracking these tools with Excel spreadsheets in the office simply was not working. Thus, field personnel helped research and select a new method of tool tracking. Learn more about how Stansell Electric's field personnel selected a tool tracking system.
---
---
Increase Productive Time
---
Keeping field people efficient and productive is a key to MAC Contracting Group's success. To do this MAC invests in technology to help keep field people free to get work done. Having an efficient way to find and track tools was one way MAC is ensuring that field people can stop chasing tools and get the job done.
---
The Information is Free. No Gates. No Tricks.
Thanks for visiting!
Tool Tracking Tips
---
Tool tracking has been a struggle for generations in construction. Our industry loses a billion dollars worth of tools every year! Many contractors have tried sign-out lists. Many have tried Excel sheets. All these office focused solutions fail for the same reason. Tools can't be managed in the office or warehouse. They are lost in the field and therefore need to be managed in the field.
Increasing the feeling of responsibility for tools is the surest way to get better tracking and less loss. So how do you do this? The articles found above are designed to help you better control your tool inventory. By sharing the best tool and equipment tracking processes from the hundreds of contractors we work with, we are hoping to move the industry forward.
Tool tracking doesn't have to be hard. A simple solution is often the best solution. However, one solution doesn't fit everyone one. Thus, there are good reasons to approach tracking from lots of different angles. Which angle is right for you and your company is something that you must decide. However, here is a bunch of information to help you with that decision. Whether you have accounting questions, operational questions or technology concerns. Here you will find articles, papers and case studies to help you educate yourself.
If you find that your company is ready to try a technology solution to tool tracking then we humbly hope you will give ShareMyToolbox a look. Our modern tool tracking app is a "responsibility" based system which can be extended and used in a variety of ways. However, there are lots of good systems out there and we are not always the best fit. Either way, we hope this information is useful to you.
Thanks for visiting!