Tool Inventory App
A simple Tool Inventory App is all you need!
---
A Tool Inventory App Should Be Simple
Tool Inventory App a Modern Approach to Tool Tracking.
Tool inventory doesn't have to be hard.  Technology changes have delivered easy ways to manage tool inventory.
A considerable amount of money is spent on small equipment and power tools every month.  Most dollars are spent in replacing items that were lost or stolen.  However, the larger cost to a company are delays when a tool isn't on a project when needed or when a valuable field worker spends hours looking for something.
Most contractors struggle with tool inventory management because they take the wrong approach to the problem. Generally, they treat tools as inventory and have the warehouse manager use the same approach as a consumable item.  The approach of treating tools as inventory blends inaccurate accounting with overly burdensome operational steps. This results in a tool program that fails to deliver accurate accounting or efficient operational tracking.
The solution for companies is to stop mixing the field tracking and cost tracking components of small tool tracking.  These are two different problems and require different approaches.  Attempts to implement one solution for both problems is doomed to fail.
Having a tool inventory app track the management of tools separate from an inventory accounting system delivers better information in both areas. Accounting systems that are forced to try and provide location and responsibility information get bogged down. Both systems can be cleaner and more task appropriate when separated.
To solve the small tool costing and billing issues, companies can employ a number of different accounting approaches.  Allocation of variable tool costs or fixed tool costs can readily accomplished in modern finance systems. With regular review and adjustments a finance team can assign and bill cost allocations without requiring additional effort from the operation's team.
If the accounting issues are separated from the operational issues, it is easier to manage the core operational needs for tool tracking. Operationally, a company needs to solve two problems.  First, the company needs to know who is responsible for each tool or piece of equipment.  Second, the company needs to quickly move tools to the jobs where they are needed.
Tool inventory apps can help with both of these operational requirements. First, a smart phone app can easily allow foreman to transfer responsibility for a tool at the same time they pass a tool from person to person.  This keeps the warehouse manager from wasting time chasing tools.  The field personnel are automatically updating the tool assignments as the tools move so the office has instant visibility into the entire tool inventory.
Efficiently moving tools from projects where the tool is idle to projects where the tool is needed can also be helped by technology.  The same tool inventory phone app can help a superintendent search for a tool and see who has what is needed.  With a couple quick text messages, the field worker can borrow the tool from someone else in the field rather than going back to the warehouse.  A quick text and borrow is far easier than buying a new tool.  Thus, the foreman will try to borrow instead of buying which saves the company money.  This efficiently transfers a tool from an idle job to a job it is needed on.  It is efficient because it shifts the search and selection of the tool out to field personnel and avoids slowing the process down by office personnel needing to be involved.
Easy to use tool inventory apps are changing construction in many ways.  Why not have them also change how your company manages small tools?
For additional detailed information on tool tracking.
An Easy to Use Tool Inventory App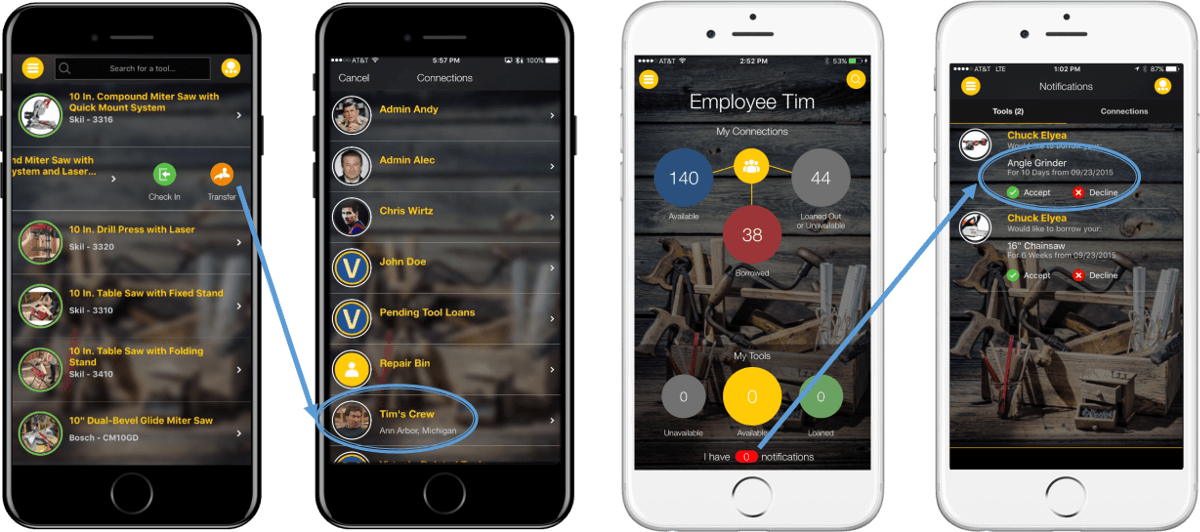 Summary
Author Rating
Software Name
Operating System
Software Category
Price
Landing Page